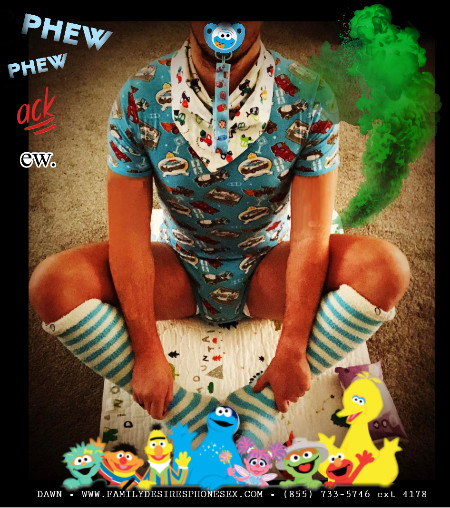 My widdle Adult baby diaper lover left me a big surprise! Golly, boy does Mr. Stinky Pampers sure know how to clear a room… A trip to Toys-R-Us led me and the ladies to the family bathroom. His rosy cheeks and quivering bottom lip were the cutest as he stood there with his little hands bunched up over his face. His sesame pamper was sure weighing him down! He grabbed my hand and waddled on over to the bathroom leaving a trail of smelly, stinky pooey following behind us.
The ladies were gasping for air with their noses wrinkled up hovering the palm of their hands over their faces. Of course, Mr. Stinky Pamper was too ashamed to let me and the ladies know that he made a whoopsie in his pamper… He tried denying it! My Adult diaper lover tried his best to avoid getting up on the diaper changer…
Phew, golly was there no denying that his sesame pamper was fully loaded. My diaper boy became so flustered as the girls and I joked around about how stinky my sweet little guy was. I don't think Mr Stinky Pampers liked being reminded of what a stinky boy he was… hahaha judging by the weight of his pamper and his red face there was no denying it was time for a diaper change.
Ppppppppppppppp uu pew ewe wowwww the ladies and I gasped when I untaped his diaper, phew!!! We couldn't wait to throw that nasty poopy-filled diaper out. Phewww, Ppppppppppppppppp uuu, Ohhh Myyy, Stinkyyyyyyyyyyyyyyyyyyy, Phewwwwww Mr Stinky Pampers laid another rotten egg! Hahhahahahahha being an ABDL babysitter will sure burn your nosehairs.